---
September 16, 1989 - May 11, 1996
Syndicated Sports Competition
208 Episodes

Hosts:
Mike Adamle
Joe Theismann
Todd Christensen
Larry Czonka
Lisa Malosky
Dan Clark

Referee:
Larry Thompson

Announcer:
John Harlan

Gladiators:
| | |
| --- | --- |
| Gemini: | Michael Horton |
| Nitro: | Dan Clark |
| Malibu: | Darren McBee |
| Laser: | Jim Starr |
| Titan: | David Nelson |
| Thunder: | Billy Smith |
| Turbo: | Galen Tomlinson |
| Tower: | Steve Hennberry |
| Viper: | Chuck Berlinger |
| Sabre: | Lynn Williams |
| Hawk: | Lee Reherman |
| Blaze: | Sha-ri Pendleton |
| Lace: | Marisa Pare |
| Sunny: | Cheryl Barldinger |
| Gold: | Tonya Knight |
| Zap: | Ray Hollitt |
| Ice: | Lori Fetrick |
| Diamond: | Erika Andersch |
| Storm: | Debbie Clark |
| Sky: | Shirley Eson |
| Elektra: | Salina Bartunek |
| Siren: | Shelley Beattie |
| Jazz: | Victoria Gay |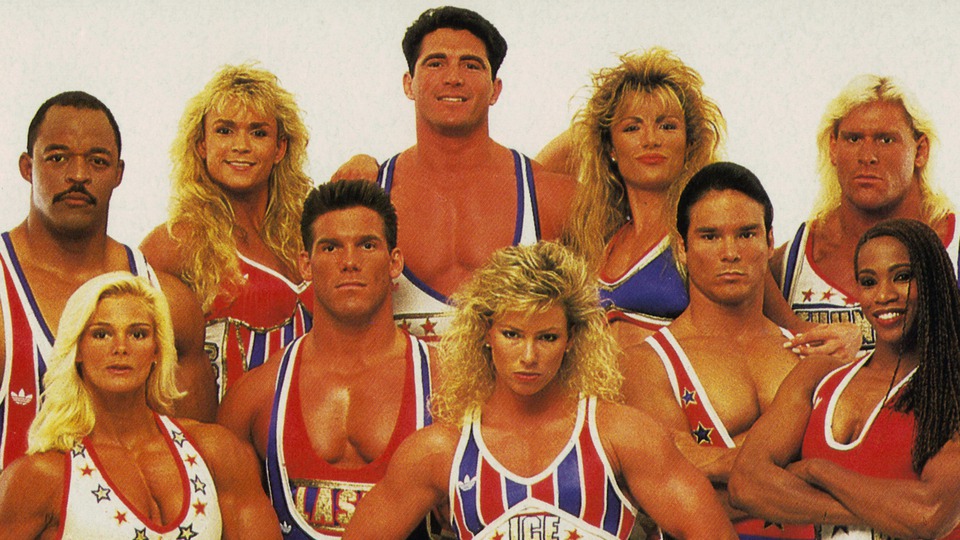 In this highly stylized physical competition contenders
were pitted not against each other but against muscular,
highly trained professional "gladiators." Four contenders
bean each week, each in a separate contest, two men facing
male gladiators and two women battling female foes.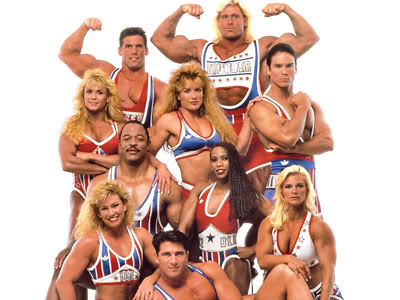 Contenders found their strength, agility, endurance, and strategy
tested as the gladiators attempted to defeat them at every step.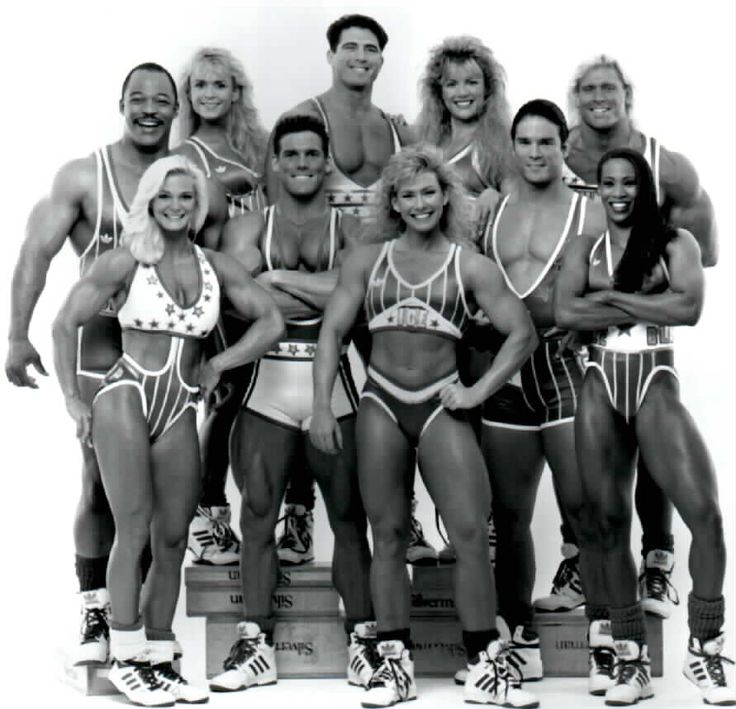 The ever-changing sports were bruising, tough, and unusual,
among them The Joust, Powerball, Assault, Breakthrough
and Conquer, Human Cannonball, Atlasphere, Hang Tough,
The Wall, Swingshot, and The Maze. The final event was
The Eliminator, a taxing obstacle course during which
gladiators attacked the contenders with mock weapons,
or blocked their way, trying to slow them down. Contenders
earned points according to how well they fought their way
through all this, and high scorers advanced to a tournament.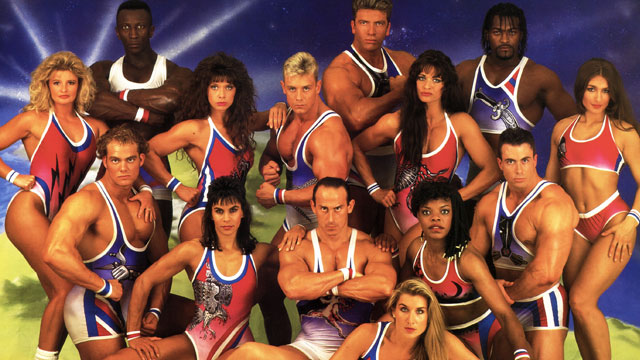 The male and female grand champions at season's end each
won $50,000--and home viewers knew that they had earned it.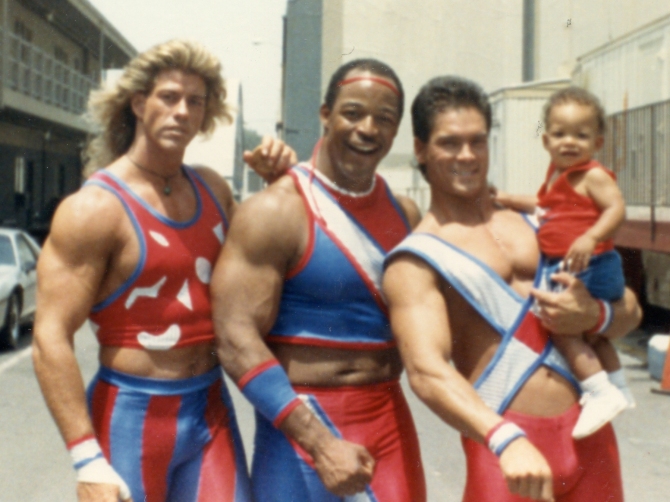 Mike Adamle and Joe Theismann co-hosted the show, with
Todd Christensen replacing Theismann midway through
the first season. Larry Czonka took over as co-host in the
fall of 1990, replaced by Lisa Malosky three years later.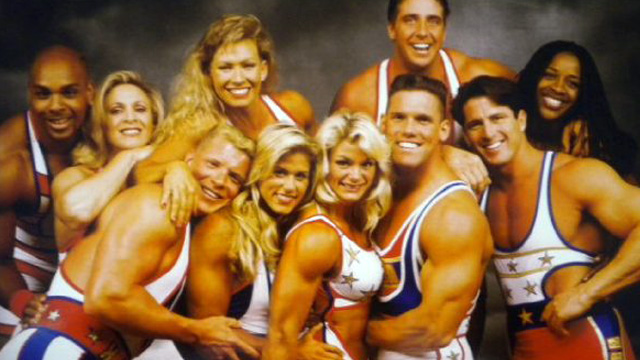 Tryouts, which attracted thousands of hopeful contenders,
were conducted in various cities around the country.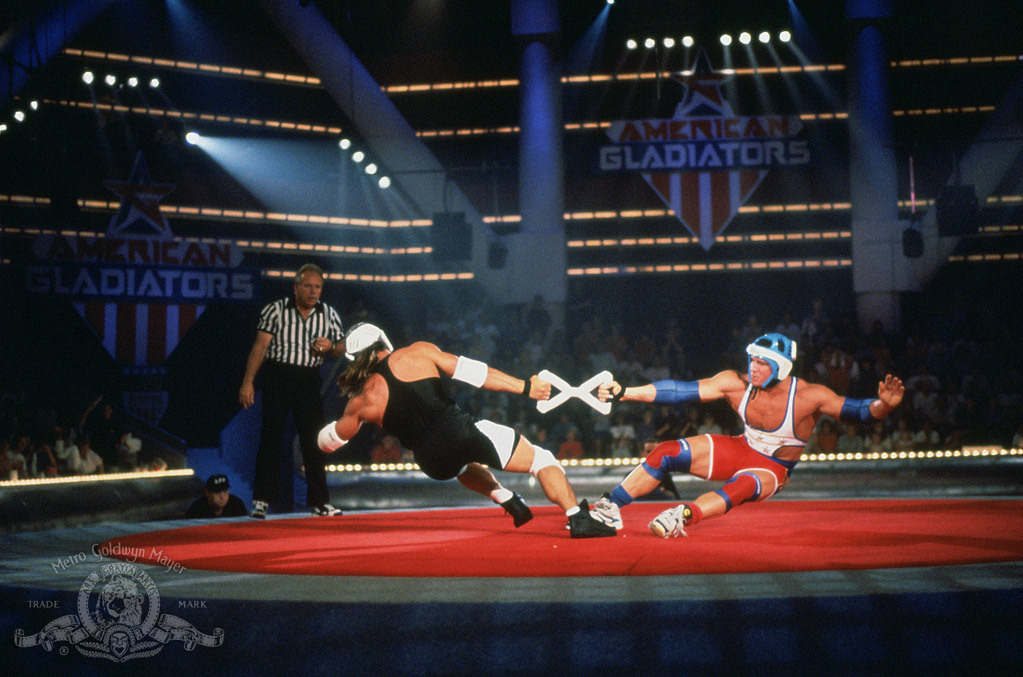 At the start of the Fall 1995 season Dan Clark traded in
his costume for a microphone as Mike Adamle's co-host.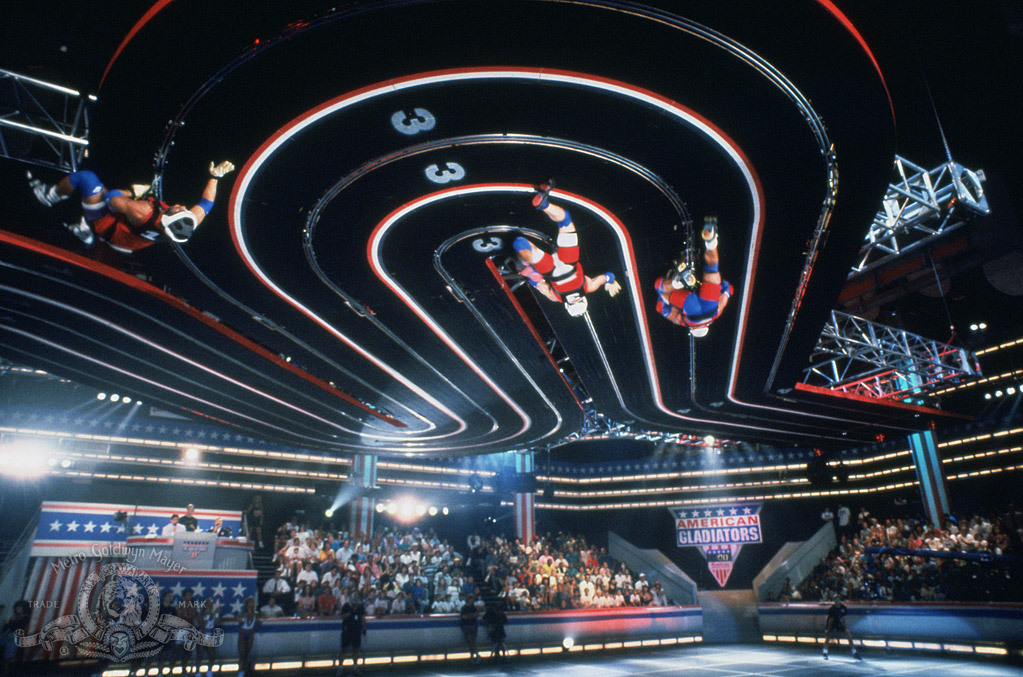 Click HERE to download theme song.



Click HERE to purchase TV books and videos!
---

American Gladiators
From TV.com

American Gladiators
From Wikipedia

American Gladiators
From The Internet Movie Database


These links were last tested November 2010.