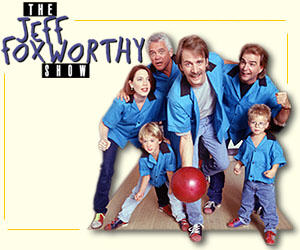 ---
September 16, 1995 - May 26, 1997
ABC & NBC Situation Comedy
41 Episodes

Cast:
| | |
| --- | --- |
| Jeff Foxworthy: | Jeff Foxworthy |
| Karen Foxworthy: | Anita Barone |
| | Ann Cusack |
| Matt Foxworthy: | Haley Joel Osment |
| Justin Foxworthy: | Jonathan Lipnicki |
| Walt Bacon: | Matt Clark |
| Russ Francis: | Matt Borlenghi |
| Craig Lesko: | Steve Hytner |
| Sandi: | Sue Murphy |
| Elliot: | Dakin Matthews |
| Lois: | Bibi Besch |
| Nettie: | Kathryn Zaremba |
| Big Jim Foxworthy: | G.W. Bailey |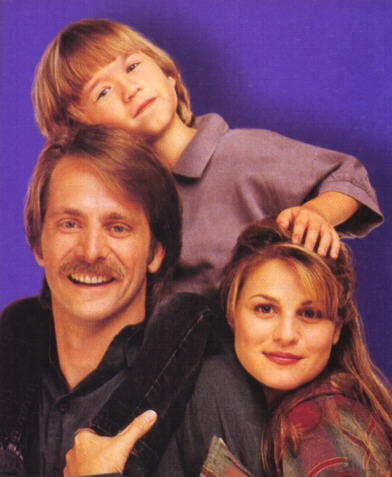 Good ol' boy Jeff Foxworthy adapted his unique brand of
Southern humor to TV in this family sitcom. In the first season
he owned a small heating and air-conditioning company in
Bloomington, Indiana. At home he traded gentle jibes with wife
Karen, a nurse, and their bright 7-year-old, Matt. Walt and Russ
were his two dim-witted workers on the job, Sandi was Karen's
worldly co-worker, and Craig the Foxworthys' condescending
neighbor at The Hunt Club at Avon housing development. Elliot,
a college professor, and Lois were Karen's disdainful
parents. When the series moved to NBC for its second season
after being canceled by ABC, the entire cast changed, with
the exception of Jeff and son Matt. The locale was now near
Jeff's hometown of Atlanta, Georgia, where Jeff managed the
loading dock of a shipping company. He and Karen now had
two children, adding youngest Justin, and there was a
wisecracking, Army-brat kid-next-door named Nettie. Perhaps
the most colorful member of the second cast was Big Jim,
Jeff's father, who was an unrepentant ladies' man.

Click HERE to download theme song.
(Theme song provided by Todd Fuller's Sitcoms Online.)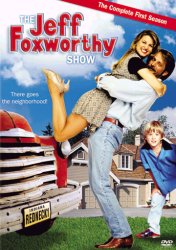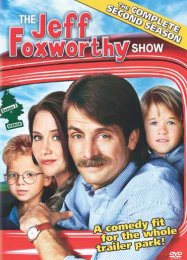 Click on the images above to purchase seasons one and two on DVD!

Click HERE to purchase TV books and videos!
---


Look for The Jeff Foxworthy Show on Superstation TBS.
Episode Guide
From EpGuides.com

The Jeff Foxworthy Show
From TV.com

The Jeff Foxworthy Show Message Board
From Todd Fuller's Sitcoms Online


These links were last tested May 2014.