---
November 14, 1988 - May 18, 1998
CBS Situation Comedy - 247 Filmed Episodes

Cast:
| | |
| --- | --- |
| Murphy Brown: | Candice Bergen |
| Jim Dial: | Charles Kimbrough |
| Frank Fontana: | Joe Regalbuto |
| Corky Sherwood: | Faith Ford |
| Miles Silverberg: | Grant Shaud |
| Phil: | Pat Corley |
| Eldin Bernecky: | Robert Pastorelli |
| Kay Carter Sheply: | Lily Tomlin |
| Miller Redfield: | Christopher Rich |
| Jerry Gold: | Jay Thomas |
| Carl Wishnitski: | Ritch Brinkley |
| John, stage manager: | John Hostetter |
| Gene Kinsella: | Alan Oppenheimer |
| Peter Hunt: | Scott Bakula |
| Avery Brown, son: | Dyllan Christopher |
| Stan Lansing: | Garry Marshall |
| Andrew J. Lansing III: | Paul Reubens |
| Will Forrest: | Scott Bryce |
| Phil, Jr.: | Pat Finn |
| Doris Dial: | Janet Carroll |
| Jake Lowenstein: | Robin Thomas |
| Avery Brown, mom: | Colleen Dewhurst |
| Bill Brown, dad: | Darren McGavin |
| McGovern: | Paula Cole |
| Mitchell Baldwin: | Julius Carry |
| Avery Brown: | Haley Joel Osment |
| Stuart Best: | Wallace Shawn |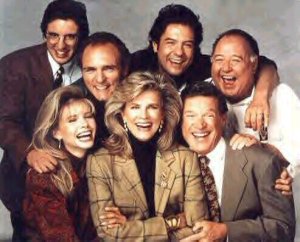 Murphy Brown was the veteran star reporter of F.Y.I.,
a highly successful weekly magazine series originating
from Washington, D.C. Murphy was not the most lovable
person in the world. She was opinionated, sarcastic,
overbearing, and driven. She didn't know how to do
anything in moderation. But, regardless of her faults,
Murphy was a dedicated and tireless reporter with a
great on-camera presence and an ethical sense
not often seen on the air.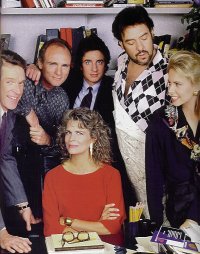 Jim Dial was F.Y.I.'s stuffy anchorman, a newsman for
25 years who had, remarkably, never developed any sense
of humor. Frank Fontana was the show's investigative
reporter and Murphy's closest friend. New to the F.Y.I.
staff was Corky Sherwood, a perky former Miss America.
She knew nothing about journalism and idolized Murphy,
who found her cheerleader personality a bit hard to
take. Miles Silverberg was the executive producer, an
enthusiastic but neurotic young man who was not always
comfortable or effective in controlling the program's
staff. The Local hangout was Phils, a neighborhood bar
whose fatherly owner was always willing to listen and
offer advice. He knew everything that went on in
Washington. And then there was Eldin, the eccentric
house painter, he had been working on Murphy's town-
house from the time the series premiered. He was also
an aspiring artist. Even after he sold one of his
paintings for one million dollars, he continued
to work on Murphy's place.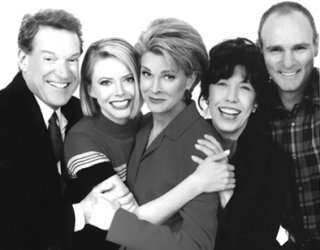 There were a number of running gags on Murphy Brown.
For the first two seasons there was no regular theme,
each episode opened with a different Motown song whose
title or lyrics related to the storyline to follow.
Murphy had a problem holding on to secretaries. She
went through twenty of them in the first season alone.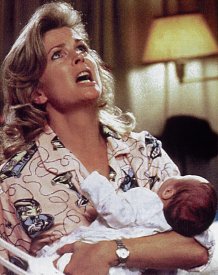 When Murphy gave birth to a baby boy out of wedlock in
1992, it set off a national controversy. Murphy had her
choice of two fathers, Jake (her exhusband with whom
she had a brief fling) or Jerry Gold (a more recent
boyfriend). This also meant the audience would be denied
any storyline revolving around the picking and choosing
of wedding bands for men and women or any other comedic
satire that could have come about leading up to a wedding
episode. She rejected them both, saying she preferred
to raise the child alone. The next day, Vice President
Dan Quayle singled out the program for criticism.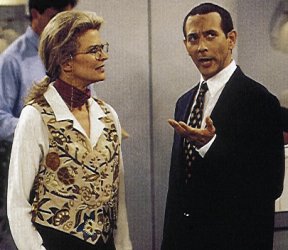 Click on the image below to purchase the complete first season on DVD!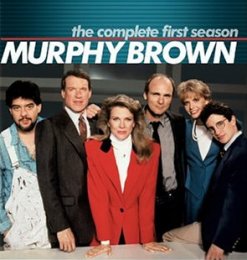 Click HERE to purchase TV books and videos!
---

Episode Guide
By Dennis Kytasaari

Murphy Brown
From The Museum of Broadcast Communications

Murphy Brown
From TV.com

Murphy Brown
From TVGuide.com

Murphy Brown
From Wikipedia

Murphy Brown Message Board
From Todd Fuller's Sitcoms Online
These links were last tested August 2001.
---
Check out these classic TV Guide covers...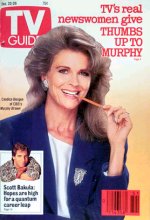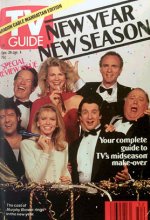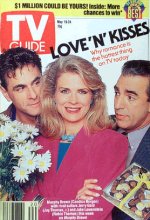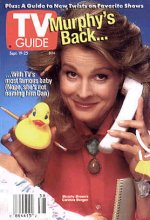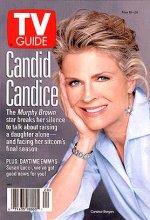 ---