---
December 9, 1951 - June 9, 1957
NBC Western
100 Episodes

Cast:
| | |
| --- | --- |
| Himself: | Roy Rogers |
| Herself: | Dale Evans |
| Himself: | Pat Brady |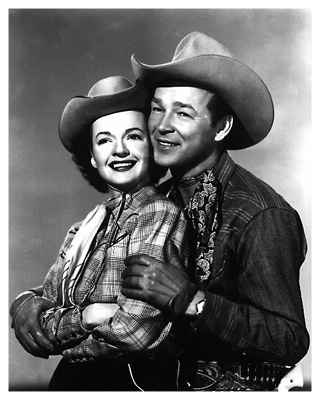 Movie Actor Roy Rogers struck gold as the most popular
television cowboy of the early and mid-1950s. The "King of
the Cowboys" was joined by his real-life wife, Dale Evans,
and bumbling sidekick, Pat Brady, in his fight for law and order
in the contemporary West. In addition to the people, Roy's horse
Trigger, Dale's horse Buttermilk, their dog Bullet, and Pat's
cantankerous jeep Nellybeller were regular members of the
cast around the show's setting of the ol' Double R Bar Ranch.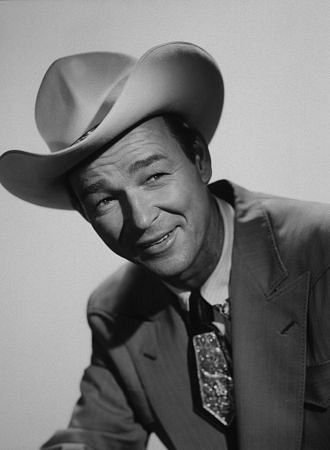 Roy Rogers was born Len Slye on November 5, 1911 in
Cincinnati, Ohio. Len began his film career in the 1930s
under the stage name Roy Rogers for Republic Pictures.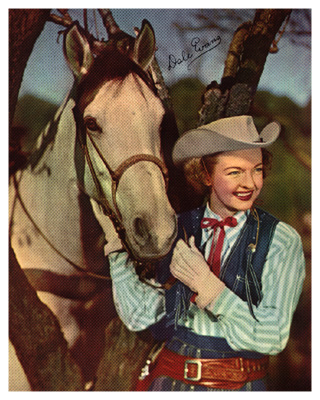 Len quit school as a young teenager after realizing that his
family needed his financial help. He joined his father
working at a local factory in Cincinnati (where he relocated
to after growing up in Portsmouth, Ohio) before his older
sister Mary and her husband moved to Lawndale, California.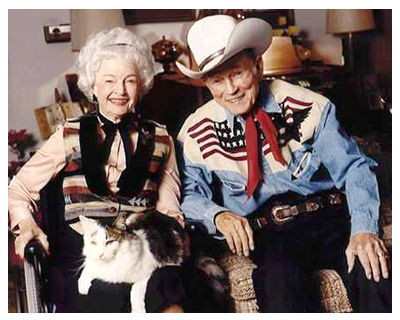 Len Slye's stage name of Roy Rogers was suggested by
Republic Pictures staff in 1938. Most of his Western
films were made in Color as opposed to Black & White.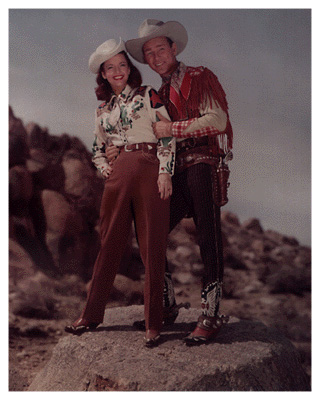 Len Slye met and fell in love with the love of his life, Dale Evans,
in 1944; 2 years later, after giving birth to Len Slye, Jr. (real
name of Roy "Dusty" Rogers, Jr.) in 1946, his then-wife, Arlene,
died of complications from Dusty's birth. The following year,
Roy Rogers and Dale Evans married on December 31, 1947.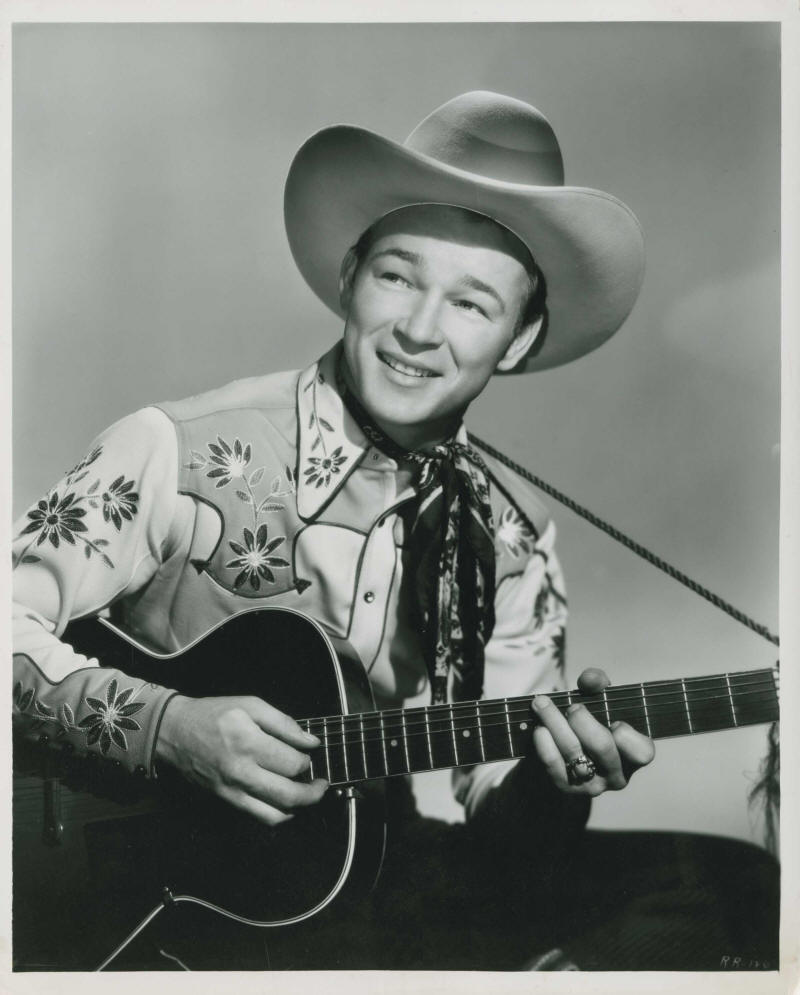 Dale Evans, whose real name was Lucille Wood Smith, had a
daughter with Roy Rogers, Robin Elizabeth, who was born
with Down Syndrome and died just before age 2 of the Mumps.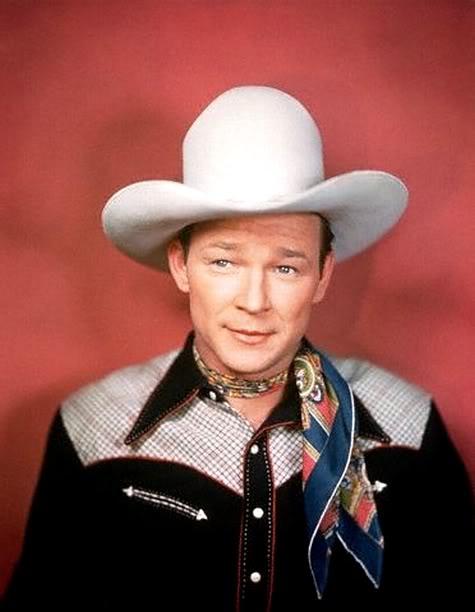 In 1968, Roy Rogers licensed his name to the Marriott
Corporation, which converted its Hot Shoppes locations
soon afterwards to Roy Rogers Restaurants, of which he
otherwise had no involvement. Roy Rogers, late in life,
was a Freemason and a member of Hollywood Lodge #355.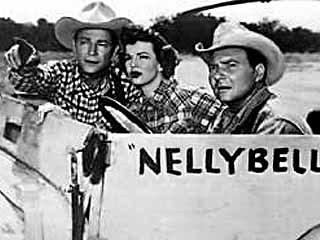 Roy Rogers died at age 86 of congestive heart failure on
July 6, 1998 in Apple Valley, California. He was buried at
Sunset Hills Memorial Park in Apple Valley, California.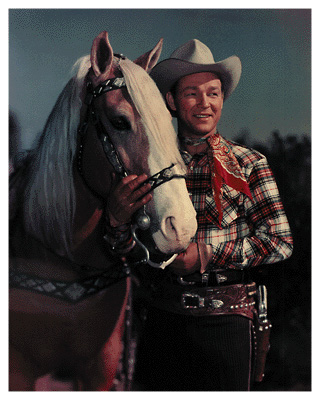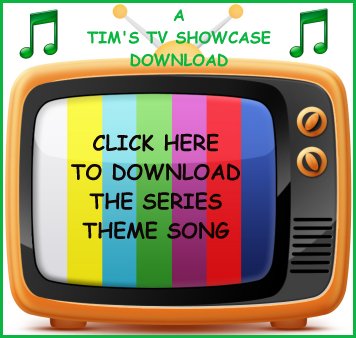 Click HERE to purchase TV books and videos!
---

Look for The Roy Rogers Show on RFD-TV.
Episode Guide
From EpGuides.com

The Roy Rogers Show
From TV.com

Roy Rogers
An Official Website

Roy Rogers
From Wikipedia

The Roy Rogers Show
From The Internet Movie Database


These links were last tested May 2016.
---
Check out this classic TV Guide cover...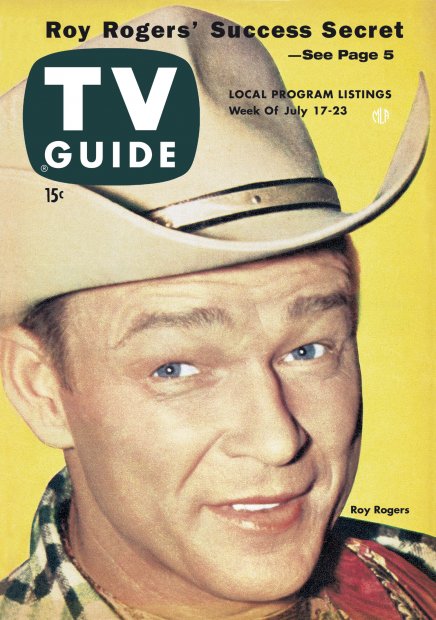 ---