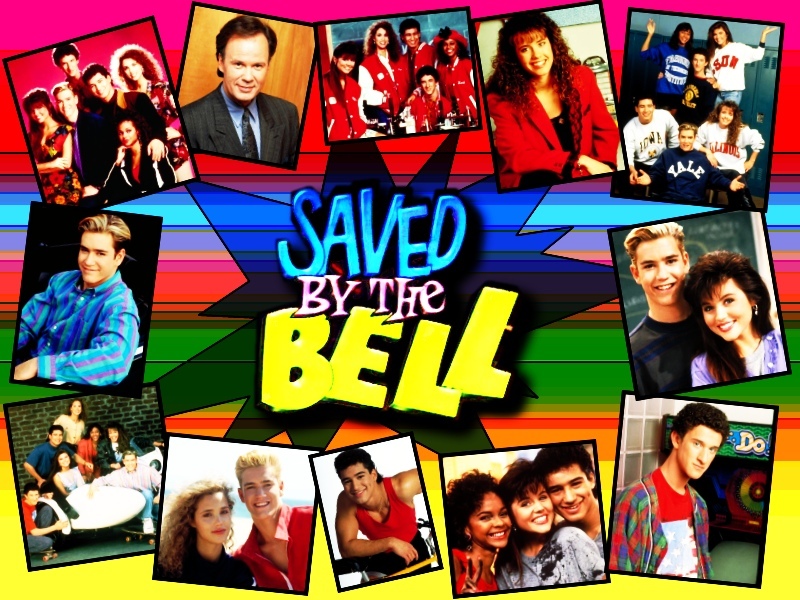 ---
August 20, 1989 - May 22, 1993
NBC Situation Comedy
90 Episodes

Cast:
| | |
| --- | --- |
| Zack Morris: | Mark-Paul Gosselaar |
| A.C. Slater: | Mario Lopez |
| Samuel "Screech" Powers: | Dustin Diamond |
| Kelly Kapowski: | Tiffani-Amber Thiessen |
| Jessie Spano: | Elizabeth Berkley |
| Lisa Turtle: | Lark Voorhies |
| Max: | Ed Alonzo |
| Richard Belding: | Dennis Haskins |
| Tori Scott: | Leanna Creel |
| Stacey Carosi: | Leah Remini |
| Leon Carosi: | Ernie Sabella |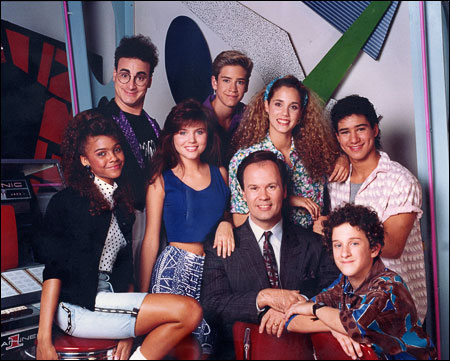 Saved by the Bell has had quite the history from the
moment it first began. It began as an unsold pilot for NBC
titled "Good Morning, Miss Bliss," telecast on July 11, 1987
and starring Hayley Mills as Carrie Bliss, a teacher at
John F. Kennedy Junior High School in Indianapolis,
Indiana. Though NBC passed over on the project, the
Disney Channel quickly picked it up, airing it as a 13-week
series from November 30, 1988 - February 28, 1989. After
Disney cancelled the series, NBC, reconsidering its
passover, picked it up and rechristened the show as
Saved by the Bell. Gone were Hayley Mills and most of
the cast, and the series shifted focus to 3 of her former
pupils, Zack Morris, Lisa Turtle, Samuel "Screech"
Powers, now students at Bayside High School in
Palisades, California. JFK principal Richard Belding
was also transferred, without explanation. Joining them
were A.C. Slater, a transfer student, along with Kelly
Kapowski and Jessie Spano, introduced as childhood
friends of Zack, Lisa & Screech. After the original class
graduated in 1993 (and subsequently spun off into Saved
by the Bell: The College Years), the show was rechristened
Saved by the Bell: The New Class, with Mr. Belding
welcoming a new group of students (and in 1994, the
return of Screech as his assistant). Dozens of students
came and went in the remaining years until December 1999,
when NBC, after 12 years and 278 half-hour episodes, canceled
Saved by the Bell. The final bell rang on January 8, 2000.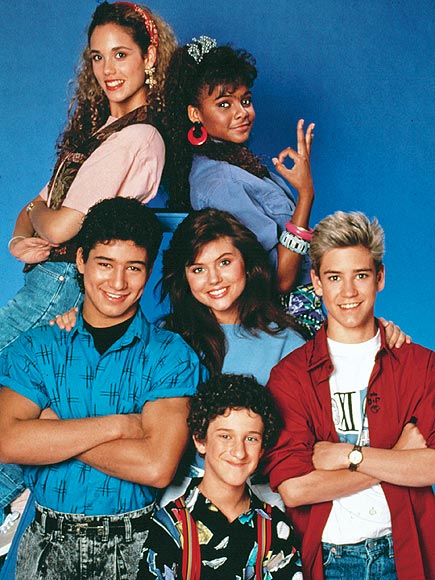 Click HERE to download theme song.
(Theme song provided by Todd Fuller's Sitcoms Online.)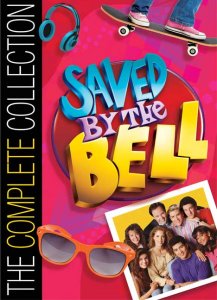 Click on the image above to purchase the complete series on DVD!

Click HERE to purchase Saved by the Bell videos!
---


Look for Saved by the Bell on Superstation TBS.
Episode Guide
From EpGuides.com

Saved by the Bell
From TV.com

Saved by the Bell
From Wikipedia

Saved by the Bell Message Board
From Todd Fuller's Sitcoms Online


These links were last tested October 2013.