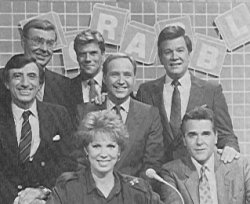 ---
July 2, 1984 - March 23, 1990
NBC Daytime Game Show

Host:
Chuck Woolery

Announcer:
Jay Stewart
Charlie Tuna

Two contestants competed in guessing words, based on
the board game by the same name. A large board was
revealed highlighting a specific number of blank
spaces for one word. A clue, based on that word,
was read. One player then selected two numbered
tiles and placed them into an electronic reader to
reveal two letters of the alphabet that may have
been contained in that word. The player then chose
one of those letters and if it was included in the
word it showed up in its proper position and the
player could then attempt to guess the word. If
the letters fell in a blue space, the puzzle was then
worth a bonus $500 if the player guessed the word at
that moment and $1000 if the letter fell on a pink
space. The player kept control of the board and
selected letters until he or she guessed the word
or chose a letter not in the word (a "stopper").
The first player to correctly guess three words won
the game, $500, and a chance to play the riegning
champion in the "Scrabble Sprint" round for $1500.
Players, in turn, attempted to guess three words
using a clue and letters that made up the word.
Only two letters appeared at one time and there
were no stoppers. The player who used the least
amount of time to guess the words won and became
the new champion. Players who won the Sprint
round five times won $20,000.

Click HERE to download theme song.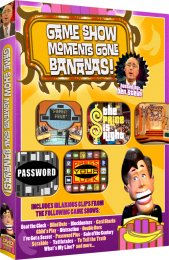 Click on the image above to purchase Game Show Moments Gone Bananas!


Click HERE to order Game Show videos!
---

CharlieTuna.com
An Official Website

Scrabble
From Game Show Lair

Scrabble
By Troy Diggs and Chris Lambert
These links were last tested August 2001.